Hi,
Christmas is fast approaching, i have already saw a few people rocking their Christmas jumpers. I have yet to find my perfect jumper. It has to have the perfect cheese factor and be cosy for the winter nights. You only get a chance to wear this for a few weeks so intend to make the most my Christmas jumper so it is not just for Christmas day.
Talking about Christmas has made me realise how close it is and is super scary. I need to get my act together and start thinking about presents for people, more importantly i need to start thinking about my Christmas list to send to Santa. At the moment i think it does seem a little far away to me because i am not at home so i missed out on Mum constantly asking me what i want and me always replying something ridiculous or 'i have no idea'. It also seems a little further away as i have not been to a Christmas market or seen any Christmas lights being turned on.
Christmas is the best time of year for me and sometimes it can be the worst. I love spending Christmas day with the family but i hate the fact that they are going to be working for allot of it and i will be at home watching Christmas films with the cats and a box of mince pies. I love the excitement leading up to the day, Christmas Eve is the day when i spend a night with a good film, preferably Elf and i wrap all of my presents in one go. Which drives my sister crazy as she likes everything sorted and organised before Christmas Eve but i like it i think it makes me more excited for the next day.
So i have been shopping around for the best Christmas jumper, i want one which i have not saw on any of friends and i will not be spotted with a matching jumper at the Christmas table. I am going for the CHEESE factor this year. I plan on out cheesing my sisters with their Christmas jumpers and the challenge is on....
Asos: Vintage look christmas jumper £38
Here

Truffle Shuffle: Unisex retro Christmas jumper £39.99
Here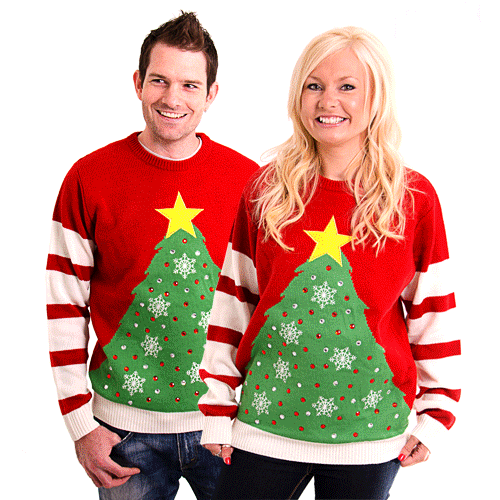 Truffle Shuffle: Unisex LED Christmas Jumper £49.00
Here
Beyond Retro: Jumper Red £18
Here
Beyond Retro: Jumper Red with embriodry £20
Here
Rusty Zipper: Women's ugly Christmas sweater £18.30
Here
So have you found any jumpers that top my finds? Let me know so we can compare :) xx